Father Anthony Sortino ,LC, received Founders Award for Service
Legionary of Christ, Fr. Anthony Sortino, received the 2023 Charles and Linda Corbels Founders award for his service and dedication to the educational community of Canyon Heights Academy (CHA). The award was presented at the Canyon Heights Academy Gala Saturday, February 25, 2023.
The Founder's Award is presented to a member of the Canyon Heights Academy community who exemplifies a deep love of Christ and has committed to sharing His message through life and service.
About Canyon Heights Academy:
Canyon Heights Academy was established in 2000 as an independent private Catholic school, served by the priests of the Legionaries of Christ.  The school provides education from Montessori Preschool through grade 8 implementing an independent, coordinated and systematic curriculum across the academic disciplines. As part of 150 Regnum Christi schools in the world, Canyon Heights Academy produces integrated graduates with a mature and balanced intellect, leadership potential and well-formed virtue to thrive and succeed in Silicon Valley and the world beyond.
About the Charles and Linda Corbalis Founder's Award:
One of the pillars of a Canyon Heights Academy education is apostolic formation, which emphasizes the importance of going out into society as Christian servant-leaders. The outcome of this apostolic formation is that each student discovers Christ, becomes more like Christ, and experiences His love more profoundly. This spirit of service begins within the CHA community and is best learned when demonstrated through the example of adult members in our community.
The Charles and Linda Corbalis Founder's Award is presented to a member of the Canyon Heights Academy community who has exemplified this deep love of Christ and has committed to share His message through a life of service. Created in honor of Deacon Charles Corbalis and his wife, Linda Corbalis, founders of Canyon Heights Academy, the Founder's Award recognizes the efforts of individuals whose contributions have made a lasting impact on the institution, whose actions uniquely demonstrate our motto Semper Altius ("Always Higher"), and whose service and leadership transforms society with Christ's love.
About Father Anthony Sortino:
Father Anthony Sortino, LC, exemplified a deep love for Christ and was committed to sharing His message in a variety of roles during his eight years at Canyon Heights Academy. These roles included Chaplain (2015-2019), member of the Board of Directors (2019-2023), Superior of the Santa Clara Legionary community, and spiritual director to many.
In addition to his dedication to Canyon Heights, Fr. Anthony had an extensive love for his community of Silicon Valley. Exemplifying his apostolic mission, Fr. Anthony was involved and active at organizations such as Catholic Googlers and Young Catholic Professionals of California. Demonstrating his love for Christ and community, Fr. Anthony also created and launched the Cana Uncorked ministry for young married couples and families.
We spoke to Canyon Heights Academy Executive Director Kevin Hollman, and when asked what impact Fr. Anthony had on the schoo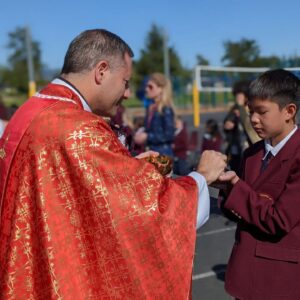 l community, he stated, "When Canyon Heights Academy would have its struggles, he would remind us to pray and trust in the Lord saying 'God wants Canyon Heights to succeed'. I think the  impact Fr. Anthony made was reminding us and pointing out the presence of God in our daily life." Mr. Hollman recalled when they first met, Fr. Anthony spoke with honesty, conviction and truth, telling the community, " Jesus is with us daily, He is among us and everywhere…We are unapologetic about our faith and desire to grow closer to Jesus…We are forming saints." That impression has remained in Mr. Hollman's heart, as well as others in the school community.
Speaking for the school community, Mr. Hollman continued to express how Fr. Anthony was an inspiration, stating "He has certainly changed our family's life toward finding a community of faith, a community of strong fellowship, and a community we call home."
During Canyon Heights Academy's Covid-19 lockdown, Fr. Anthony initiated Facebook Live and Youtube offering pivotal parental ministry lectures, and children's ministry.  In addition to his duties, he saw a need for more spiritual direction, and sacraments during the lockdown. When the community needed him the most, Fr. Anthony connected families and formed friendships during the pandemic.
Adrienne Barajas, Canyon Heights Academy Advancement Coordinator, shared that Fr. Anthony's impact has been that of Christ's love, by revealing the face of Jesus to the community day in and day out. When asked to describe him, Adrienne shared that ""He is warm, determined, gentle, resilient, and zealous for the Lord. He is an incredibly intentional leader and prayerful disciple, always anticipating the needs of others. He is also a fearless, sacrificial giver of his time and talents."
Fr. Anthony is grateful and blessed to be a part of the mission and community at Canyon Heights Academy. When asked what the importance of this award was to him, he replied that it fills him with joy to see students, parents, and the community receptive and responsive to what God is doing in their lives. He concluded the interview by stating, " To serve as a priest, is something we do because we love the Lord and we love the Church, I am beyond thankful for what this community has given me."
Fr. Anthony will continue his ministry and has been assigned as Chaplain at Clear Water Academy in Calgary, Canada, beginning in the fall of 2023.