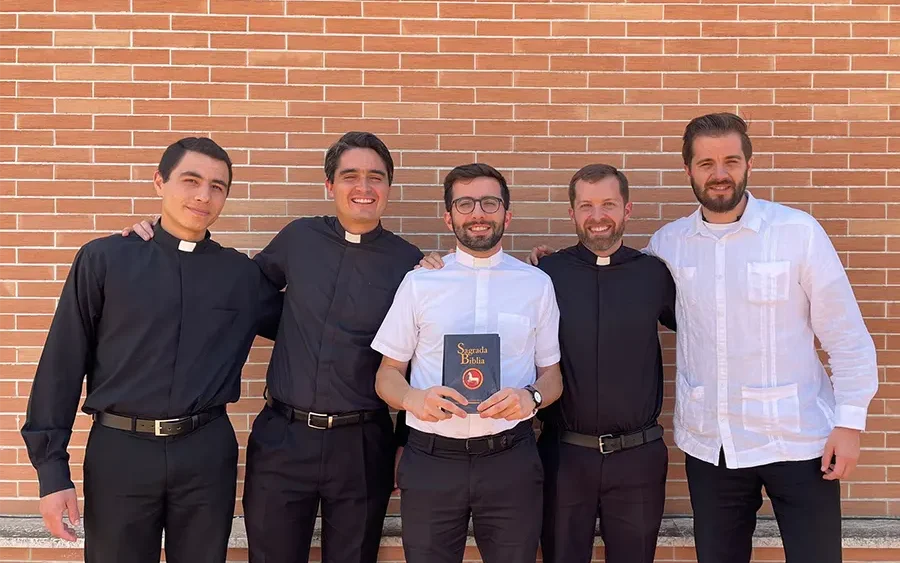 "RC Bible"— A Project Created by A Group of Legionaries to Help Young People Learn to Pray With the Bible
What doubts do today's young people have about praying? Can you really listen to God through the Bible? These were the questions that a group of Legionary brothers in their theology studies in Rome tried to answer. Since launching six weeks ago, RC Bible "has helped me be more attentive when reading or listening to Bible passages, because during this process I was able to realize how the Holy Spirit makes himself present in the different readings to bring me to understand many things in my life," says Alejandra Vásquez from Valencia, Spain, one of the young people who participated in the course.
It all started with the desire of some Legionary brothers who did their apostolic internship in Spain: to teach others to pray using the Bible. One of them, Br. Daniel Fernández, LC, indicated to these young people that he was certain that "the Word of God is a living Word that wants to respond to you here and now; it is not a dead word. It isn't a book about history or mathematics; it is a book that wants to answer many questions that young people have in their hearts these days." Brs Miguel Hernández, Daniel Fernández, Javier Villar, Christopher Daniels, and John Kenny as well as Fr. Rafael Vignaroli, LC, and Br. Jaime Plasencia, LC, created the plan for the program. It seeks to give young people a foundation so that they encounter the Lord through his Word, unlike other apostolates that offer daily Gospel reflections, but that are pre-written reflections that, in the end, do not always achieve true contact with the Word of God or, most importantly, respond in prayer to the question: "What does God want to tell me through this Gospel?"
An Entire Course on Prayer
The project began Sunday, April 16, 2023, the Sunday of Divine Mercy, with a video call with 80 young men and women who wanted to participate in the project. Every day for six weeks, throughout the Easter season, they sent out a short two-to-three minute audio recording about the context of the Gospel reading of the day, in which they presented guidelines for orientating their prayer after having read the Gospel themselves. They also presented other quotes from Sacred Scripture each day, such as parallel passages to complement their prayer.
Also, Thursdays were "feedback Thursdays," that is, through WhatsApp, an audio recording, or in person, each participant was invited to tell their spiritual director this program of prayer was going for them: lights received, difficulties encountered, etc. Finally, they reconnected every Sunday to receive a 20-minute formation talk about topics that help them learn like "Children of the Father," "Examen of prayer and examen of the day," "Types of prayer," or "Life in the Spirit…"
"The project didn't aim for them to stay dependent on daily reflections; that's why it had an end date," explains Br. Daniel. "It was a boost, and the idea is that now, these young people can start to pray by themselves, they can take the Gospel of the day and meditate on what God wants to tell them and do with them through the Word." Alejandra Vásquez, from Regnum Christi in Valencia, Spain, tells us her experience of all this.
How has RC Bible helped you in your prayer life?
It has helped me to be more attentive when reading or listening to Bible passages, because during this process I was able to realize how the Holy Spirit makes himself present in the different readings to bring me to understand something in particular.
What encouraged you to sign up?
Curiosity for learning more, although I should admit that the deadline for asking to be part of the process had passed, and I started a day late. But it was my spiritual director, Fr. Sebastián Rodríguez, LC, the director of the youth section of Valencia, who mentioned this initiative to me and told me it would be really interesting, and it was. Now I don't have any doubt that the Holy Spirit was at work from the beginning, both so that Fr. Sebastián would speak to me about it and so that Br. Daniel would let me take part even though I was late.
What have you learned about praying with the Bible through this initiative?
I have learned many things, but one of the most important to me is to include the Holy Spirit in every moment of my life and to be attentive to what he wants to tell to me, not only through the different chapters and verses of the Bible, but also through each moment and event of my daily life, because during this initiative, he has communicated with me in many ways.
Now that this process has "concluded," it is time to continue applying everything I have learned since the brothers who have participated in our formation have shared with us different useful tools to apply mainly in our moments of prayer, but also others to apply in our everyday life.
What did you think about the content they sent you, the feedback, and the Sunday talks?
It seemed very well structured to me because I personally felt very involved and part of something. The daily message reminded me of my "task;" perhaps if they had sent me all the readings at the very beginning, or every week, I wouldn't have finished them. On the other hand, the feedback time with my spiritual director every Thursday reminded me that, as a human, I have doubts and difficulties, but that's not bad; on the contrary, I can count on someone who helps guide me through these questions and doubts. Finally, I loved the formation talks; I learned a lot because they served as a complement to the readings and, again, applied to my daily life.
I can't stop sharing about how this has changed my life for the good and that I am very thankful for each one of the people who made this initiative possible. As my favorite phrase goes: "Every story has an end, but in life, every end is a new beginning." Now I begin one more chapter with the help of the Holy Spirit and everything I have learned.