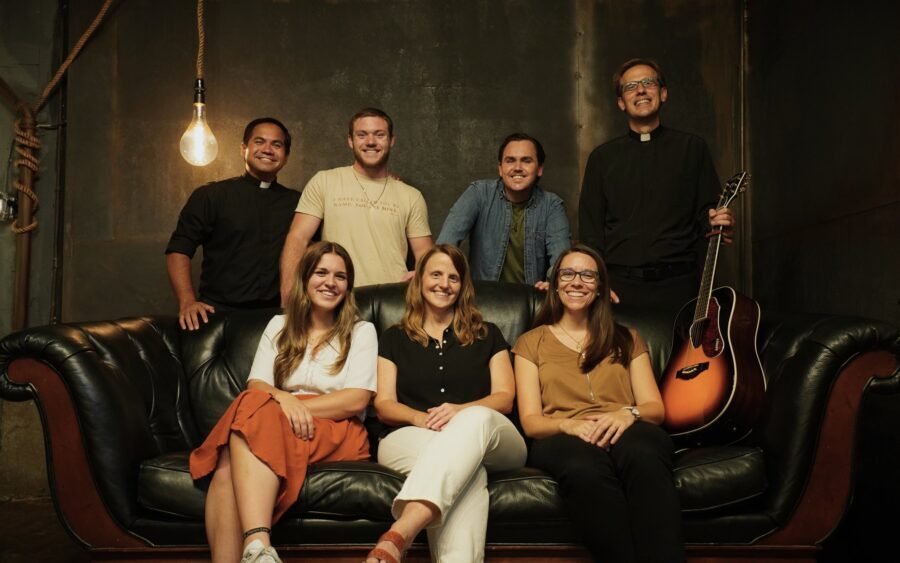 RC Music Collective Now on Hallow!
The RC Music Collective is a group of Legionary priests, Consecrated Women, and lay members of Regnum Christi who have been writing and recording music together since 2019, and they now appear on a brand-new platform! Listeners can now find RC Music Collective on Hallow, a Catholic prayer app used by millions of people world-wide that offers a wide selection of contemplative prayer resources, meditations, Catholic Bible readings, music, and more.
But this new collaboration between RC Music Collective and Hallow did not develop overnight, and required some patient waiting from the members of the group. In August of 2022, at a retreat for Catholic business leaders, the RC Music Collective provided the music for adoration and Mass, and for the entertainment portion of the evening following dinner. It was providential that during that dinner, Emily Roman, a Consecrated Woman of Regnum Christi and one of the four members of the core team of RC Music Collective, ended up seated next to Hallow CEO, Alex Jones, and was able to share with him about some of the work the collective had been doing. Another four more months passed before, in December 2022, Joe Frederickson, the content lead at Hallow, reached out to begin discussions, and finally, in mid-March of this year, RC Music Collective signed a contract with the app.
RC Music Collective now has its own playlist on Hallow, with eight songs so far, including Revival featuring Colleen McKenna, from their 2021 album of the same name, and Pray for Us (a song for Mary), from their current compilation of songs, called "Follow." The Hallow app also features "praylists," a collection of prayers, music, or meditations directed toward a single theme; three of RC Music Collective's original songs (Gethesemane, So in Love, and Revival) are featured on the app's current Easter praylist.
Since being featured on the Hallow app, RC Music Collective has seen a dramatic increase in its audience – the number of views on their YouTube channel has risen significantly by several thousand for each video, and the number of monthly listeners on Spotify has doubled! Besides seeing an increase in traffic to their videos, songs, and website, the group has also noticed a rise in the number of comments from listeners sharing the beautiful spiritual experiences to which the music has been leading them. "One young person shared how the song 'Pray for Us' had brought her to a very powerful encounter with Mary as her mother," says Emily. "We have received so many testimonies about how the songs have been deeply touching people who otherwise might not have found our music."
Along with Emily, Legionary priests Fr. John Klein, LC, Fr. Jaime Lorenzo, LC, and fellow Consecrated Woman of Regnum Christi, Jill Swallow, make up the core team of RC Music Collective, who carve out time to spend a week together at least three times a year: for a recording session, a musician's retreat, and a song-writing week. Jack Dardis and Sarah Carpenter, who frequently collaborate with RC Music Collective, joined the core team this year for the song-writing week, which took place in March in Louisiana. During the week, they were joined by Greg Boudreaux of The Vigil Project, who has been an excellent mentor to the collective throughout its musical journey. As a result of this year's song-writing week, the group has six to eight songs to discern next steps for – and possibly record – in the upcoming months.
In the midst of their week dedicated to writing songs, RC Music Collective also had the opportunity to play their music at a parish in Covington, Louisiana. Archbishop Gregory Aymond had requested during Lent that each parish within the archdiocese of New Orleans host three evenings of adoration and confession, so the collective, in collaboration with the Regnum Christi locality, provided the music, accompanied by reflections, for one of those nights. This beautiful experience of prayer and song was well received, and the members of the collective continue to discern how God is calling them to invest their time and use their gift of music, and the beautiful chemistry that they have together, toward similar events in the future.
Most recently, the group gathered to host its third annual musician's retreat, called Music for Mission, held near the end of April in Atlanta, Georgia. The goal of the weekend retreat is to form musical apostles, Catholic musicians who embrace the gift of music in their lives and strive to find its place in the Church. The retreat incorporates four key elements: much-needed fellowship and community with other Catholic musicians, collaborative workshops that can help dispel some of the fear and intimidation surrounding the song-writing process for young musicians, formative talks on the power of music and its role in worship and the liturgy, and perhaps most importantly, time for silent prayer. "We included an element of silence on the Saturday morning of the retreat, to emphasize for these musicians that silence is actually as important as sound," says Emily "In fact, alternating between silence and sound is what makes music, and yet our world doesn't really lend itself towards silence." The retreat included Mass each day, times of communal and private prayer, adoration, and, of course, a fun evening on the last night featuring a jam session and an open mic.
In this month of May, be sure to check out Pray for Us (a song for Mary), the collective's first song dedicated specifically to the Blessed Mother, and one that is particularly special, not just to Emily, but to all four members of the group: "We all had a sense that Mary wanted a song, and we were all brainstorming, but nothing really clicked. Then Fr. John preached a homily on the Feast of Our Lady of Lourdes on September 15th, and he began to share his own relationship with Mary in such a tender way that after Mass, Jill and I just stayed in the chapel and wrote. In the end, we had these notebooks full of ideas, and hearts full of what we wanted to say to Mary. When we were all together struggling to come up with a song, I brought out my notes and set them on the piano and suddenly the song came together so quickly and so simply, after such a long time of knowing a song was there and just wishing we could see it! The Holy Spirit moved us so much in the writing process, and now we hear so often from people how much the song has touched them and put words to their own prayer, and how it has helped them encounter the Blessed Mother."
You can find out more about the RC Music Collective on their website at rcmusiccollective.org, check them out on Facebook or Instagram, or subscribe to the Regnum Christi Music Collective channel on YouTube. Listen to their music on Hallow or any music streaming service.
Emily has been serving in the Atlanta area since 2013, and is currently the Director of Campus Ministry at Pinecrest Academy, a Regnum Christi school in Cumming, Georgia. She graduated from Mater Ecclesiae College in Rhode Island with a Bachelor's Degree in Religious and Pastoral Studies, and this summer she will be beginning her Master's Degree in Educational Leadership at Notre Dame University.